Posted by
Musashi

Wednesday, April 21, 2010 7:05 AM

Just thought I would drop some advice for reducing tooth decay today. Here are a few simple steps that can possibly save you thousands on dental expenses. First I have to note the disclaimer first, LOL: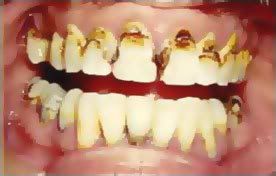 The information contained in this website is for general information purposes only. We endeavor to keep the information up-to-date and correct, we make no representations or warranties of any kind, express or implied, about the completeness, accuracy, reliability, suitability or availability with respect to the website or the information, products, services, or related graphics contained on the website for any purpose. Any reliance you place on such information is therefore strictly at your own risk. It is recommended that you speak with a professional to ensure that any application of the information on this site is good for you and your situation.
Now that the legal jargon is out of the way, let's get into it. First off, tooth decay is actually a disease cause by bacterial metabolism. The bacteria consume sugar, and produce acid as a by product. This acid eats away at the enamel and eventually the teeth causing dental caries most commonly cavities. Now that we understand this situation, let's figure out how we can protect ourselves from this acidic incursion.
The first thing I would advise is reducing sugar intake(thanks, Captain Obvious). If the bacteria do not have a food supply (or minimal food supply). Then metabolism and acid production is minimized as well. Secondly, if you're addicted to sugar like most Americans, I would recommend supplementing the sugar with an all natural sugar substitute that's actually great for your tooth and mat reduce the risk of tooth decay all together! Xylitol is just as sweet as sugar and is a 1:1 replacement. Xylosweet, made by Xlear, is an all natural 100% xylitol sweetener contains nothing else unlike most other sweeteners.
For more information on Xylitol please visit
Xylitol.org
and
Xlear.com